Market Served
Automation works
Computer racks
Equipment testing
Furniture
Guarding
Machine tool
Material handling
Packaging
Robotics
Workstation

Clean Rooms
Exhibits / Displays
Electronics
Fluid power
Linear Motion
Manufacturing
Medical
Retail System
Scientific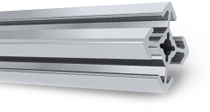 SERVICE & SUPPORT
FLEXIBILITY
»Alumitek can deliver your order any way you prefer.
BULK MATERIALS
»We carry a large inventory of profiles and accessories in each local availability.
PROCESSED MATERIALS / CUSTOM MACHINING
»We can provide to you all kind of machining services required.
SUB/FULL ASSEMBLIES COMPONENT ASSEMBLIES QUALITY INSPECTION
»You can save your company engineering time and labor cost.
2016 Catalog
---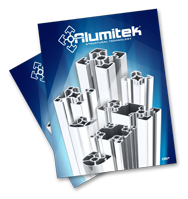 ---
Alumitek offers an innovative experience in industrial supplies by providing essential elements such as: high-quality products, the optimal solution on all given requirements.